Chanel
Spring Summer 2005
Chanel
Fall-Winter 2006
Chanel
Haute Couture Spring-Summer 2005
Chanel
Haute Couture Spring-Summer 2006
Chanel
Haute Couture Spring-Summer 2006
Chanel
Haute Couture Fall-Winter 2006
Chanel
Haute Couture Autumn-Winter 2007
Chanel
Spring-Summer 2008
Chanel
Fall-Winter 2008
FENDI
Spring-Summer 2008
FENDI
Spring-Summer 2008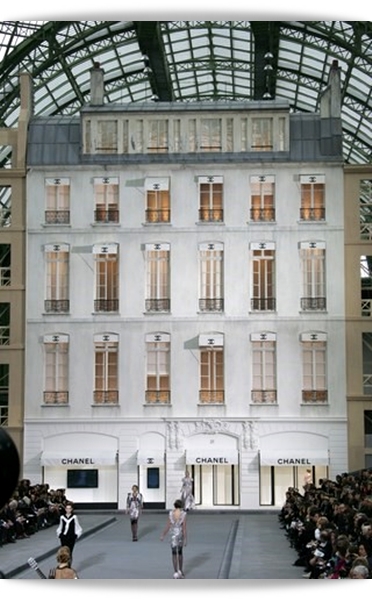 Chanel
Spring-Summer 2009
Chanel
Haute Couture Autumn-Winter 2009
Chanel
Spring-Summer 2010
Chanel
Fall-Winter 2011
Chanel
Haute Couture Fall-Winter 2011
Chanel
Haute Couture Fall-Winter 2011
Chanel
Autumn-Winter 2011.
Chanel
Spring-Summer 2012
Chanel
Métiers d'Art 2011
Chanel
Spring-Summer 2013
Chanel
Fall-Winter 2012
Chanel
Haute Couture Spring-Summer 2012
CHANEL
Pre-Fall 2012
Chanel
Haute Couture Spring-Summer 2013
Chanel
Fall-Winter 2013
Chanel
Fall-Winter 2013
Chanel
Spring-Summer 2014
Chanel
Spring-Summer 2015
Chanel
Haute Couture Spring-Summer 2015
Chanel
Autumn-Winter 2015
Chanel
Fall-Winter 2014
.Chanel
Haute Couture Autumn-Winter 2015
Chanel
Spring-Summer 2016
Chanel
Haute Couture Spring-Summer 2016
Chanel
Fall-Winter 2017
Chanel
Cruise 2018
Chanel
Spring-Summer 2018
Chanel
Fall-Winter 2018
Chanel
Spring-Summer 2019
Chanel
Haute Couture Spring-Summer 2019
Chanel
Fall-Winter 2019
The many faces of "The Kaiser"
The world of fashion can have many colours, but at this time the world of fashion and especially Chanel
was dressed in ... Black".
Karl Lagerfeld, left life on the 19th of February, at the age of 85.
On the day, he died, Fashion Week was launched in Milan!
After his death, fashion industry, is experiencing a worrying feeling, that an entire era is being lost, that Karl is: "Irreplaceable","Extraordinary creative mind","Source of inspiration","Genius", "A giant", "Witty and generous", "A force", were just a few of the reactions, to his death!!!
Karl Lagerfeld helped shape the "system" in fashion:
Men's collection and Haute Couture in January, Women's collections in February and March, Cruise collections in May. Then Men's Haute Couture and Haute Couture in June and July, Women's collections in September and October and then Pre-fall collection at the end of the year.
But who was actually that man?
The "persona" of the idiosyncratic creator is widely known: white hair, black sunglasses anytime of the day, claiming it to be its own "burka", towards the male population, and high collars in white shirts, which he considered as the basis of style.
Born in Hamburg, Germany, in the autumn of 1933, Karl, deeply influenced by his childhood upbringing, "dived" with great passion and enthusiasm, in the ocean of fashion.
A son of a particularly wealthy industrialist family, was raised with many comforts, shaping an unconventional personality. His family and especially his mother, however, were always by his side.
That was probably his motivation.
Caustic, sometimes cynical, insulting, and extrovert, caused a variety of reactions, with his own historical thoughts, that will remain for eternity as: "Karl Lagerfeld-Quotes".
There are more than a few who support that Karl Lagerfeld, is one of the most misunderstood people of our days!
Being a free spirit, he did not even think of keeping his views to himself!
He had intense and special humor, a playful mood, interesting views and a special gift and ability to communicate effectively. Cultivated, unpredictable, provocative, and sometimes shocking, could make you dislike him, but it was impossible to ignore him!
Looking back on the history of fashion, in an attempt to showcase its most prominent representatives, who, with their action, contributed to its development and preservation over the years, rightfully Karl Lagerfeld occupies a position at the very high top of the list.
Having his own worldview, classifying his needs with his individual hierarchy and armed with confidence, Karl Lagerfeld decided to live his life against all stereotypes.
He did not like to pretend, he loved young people and wanted to work with new and beautiful faces by his side.
From time to time, in interviews he exclaimed: "I hate to see ugliness".
In the two centuries that he marked with his presence, Karl Lagerfeld wore many "hats"!
Multi-talented, with endless curiosity ambition and wild thirst, for being in the front line, Karl Lagerfeld has been the "legend" and the "ultimate face", of a global industry that is becoming more and more impersonal.
Whether on or not, the international catwalks, he was a central part of the ongoing debate about fashion, creating and inventing, new roles, for himself.
A major characteristic, of his versatile talent, was the "unpredictable" collaborations and a creative fever that was diverted to different channels.
"I design like I breath.
You don't ask to breath. It just happens"
-Karl Lagerfeld
Chanel's artistic director since 1983, Karl Lagerfeld has given the historic but "dusty" house, a new impetus, using "codes" like the double "C" logo, creating a fresh, global "appetite" for the brand that still represents the concept of high luxury.
Karl Lagerfeld, has also worked with Fendi for more than half a century, giving the classic fur coats, of the Italian house a fresher look!
In 2007, Lagerfeld "orchestrated" the majestic show for FENDI, in the Great Wall, China.
Karl Lagerfeld had an endless creativity!!!
What shows to remember first?
The Fall/Winter 2006, when he created the Hall of Mirrors?
The Spring/Summer 2013, when he filled the stage with giant wind mills?
The Spring/Summer 2016, when he created an Airline for Chanel?
The Fall/Winter 2018, when he created a forest with leaves and trees?
The Spring/Summer 2019, when he created Les Grand Palais into a Beach for Chanel?
Sunglasses, leather gloves, black tie, but also ponytail.
The popular image of the famous German creative, portrays the "Karl Ikonik" collection, which is part of the brand, the most youthful version of Lagerfeld's stylistic view.
Now with a collectible value!
"Fashion is a language that creates itself in clothes,
to interpret reality"
-Karl Lagerfeld
In 2004, Karl Lagerfeld defeats a big "taboo" of the fashion industry and signs a collection for the famous Swedish fast-fashion giant H & M. Huge queues, gathered outside the outlets that had the collection, which was completely sold out in a very short time.
According to the French media, Karl had recently faced many health problems.
And somehow, all had an explanation.
In the last two haute couture shows of the high-fashion house in Paris on January 22, the fashion legend had not "checked in" and despite the fact that the brand had announced that the absence was due to fatigue, those who knew they were astonished, as none was accustomed to such absences all these years.
Indeed, it was the first time Karl did not go to the catwalk!
Briefly, this is the "Fashion Giant" who recently left his last breath!
We emphasize "briefly", because such a legend, is impossible, to be presented in just a few paragraphs!

"Don't look to the approval of others,
for your mental stability"
-Karl Lagerfeld